FAQ
FAQ - Delivery & Pick Up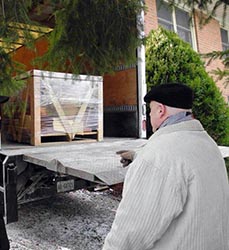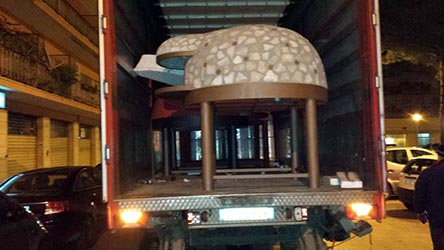 How much does delivery cost?
Delivery is free in the contiguous USA on all ovens! If you are in AK or HI delivery is free to a freight forwarding company on the mainland, such as Alaska Marine Lines in Seattle.
Do you ship to Canada?
Of course, in fact we have a whole separate website for Canada: pizzaovens.ca
What kind of delivery do you offer?
We ship with common carriers curbside only, usually this means to the driveway. Liftgate service is included.
Are your shipments insured?
Yes, all our shipments are fully insured against loss or damage in transit.
Can the driver place the oven on my base?
Unfortunately no, the driver does not have the equipment to do this.
Can the driver put the oven in my garage, backyard, patio, etc?
This is not guaranteed and depends on the accessibility of the place but can usually be done. However, the driver may not be able to move the oven over grass, gravel, steep inclines, steps, or similar obstacles.
Will i be notified of the delivery time?
Yes, of course. The carrier will call you prior to delivery to schedule an appointment. Please do not take time off work or otherwise change your plans unless the carrier has called you and scheduled a delivery time. Also, please do not hire workers to work on your oven before you actually receive it - delays do happen and sometimes an oven gets delivered later than anticipated, please wait until you actually receive the oven before investing into any work to be done with it. Please note that we are not responsible for any charges that may be incurred due to missed delivery dates.
How long does delivery take?
This depends on your location. We normally ship within 2 business days of payment receipt. Transit times vary between 2 and 8 days. For instance Long Island, NY - 2 days, Chicago - 3 days, Florida – 4 days, etc. Transit times are not guaranteed, carrier-related delays do happen from time to time.
Should i inspect the oven for damage on arrival?
Yes, please inspect it for visible signs of damage. If you find any obvious damage please note it on the bill of lading before signing for it. In the case of modular oven kits like the Volta which are packaged in pieces the driver will not wait for inspection, if you later find any damaged parts please contact us.
How can i move your 1400 lb oven into my backyard after it's delivered?
You definitely need a good plan. Usually an engine hoist and a dolly will do the job. In other cases a pick up truck, bobcat, other lifting equipment may be needed. Please see our post here. If this does not seem possible to you then you may want to consider a modular kit like our Volta, it is a lot easier to handle but requires assembly.
I'd like to save and pick up the oven in NJ, how do i do that?
This is a great option which will save you money and shipping time. Pick up hours are Mon-Fri 9 am to 4 pm. Just place an order on the website and select the pick up option at the checkout, the system will apply the discount. We will then follow up with pick up information. Ovens are usually ready for pick up within 24 hours. Nonno Peppe is our only oven that will fit into a hatchback or minivan, all other ovens will require a pick up truck or trailer. We do have a forklift on our end to load the oven onto your vehicle. All pick ups are from Piscataway, NJ, zip code 08854.
FAQ – Ovens.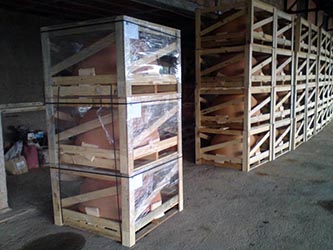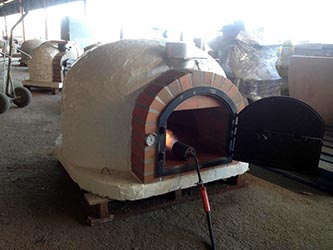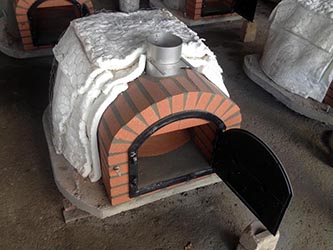 I've seen a similar oven for sale, is it the same as yours?
No. By agreement with manufacturers the brick ovens we carry are exclusive to us in USA and have been so for years. Our ovens are made with a lot of input from us, we request from manufacturers particular things like specific insulation materials, cements, drying times, packaging, and more. Ovens may look similar on the outside but they may be very different in composition, durability, and performance.
How do you select which ovens to sell?
We basically look for best in class ovens. We have been working with same ovens for many years because we believe they represent the best value. We invite you to compare our models to similar-sized ovens from our competitors.
Why are your prices lower than from other suppliers?
To get the best possible price we import our ovens directly from manufacturers in full containers and try to cut all overhead costs, i.e. anything the customer doesn't benefit from.
Are your ovens in stock?
Yes, we keep all ovens in stock in Piscataway, NJ, this is what allows us to offer our ovens quickly. If an oven is out of stock we will put a notice on our website ASAP. If you are interested in an oven which is currently out of stock we will contact you with an estimated time of arrival. We do not require a deposit if you would like to reserve an out of stock model.
Can i come and see the ovens in person?
Unfortunately not. We have been concentrating on nation-wide advertising & shipping and are proud to have customers in each and every US state. Being that our customers are all across the country there is no location where it would make sense for us to maintain a showroom. We also believe that you can gather more info about an oven from website description, pictures, and videos than from seeing the oven in person without being able to fire it up.
Do you sell commercial pizza ovens?
No, our ovens are designed for residential use, though Voltas are being used in multiple commercial applications.
Can your ovens be used on mobile pizza trailers?
Yes, many of our ovens are currently successfully used this way, you can see examples here.
Do you have ovens for indoor use?
Yes, the Volta can be installed indoor.
Do you offer after-sale support?
Yes! You can contact us with any questions on your installation. You can also see many documented projects with our ovens here
Do your ovens crack?
Virtually all wood fired brick, clay, or precast ovens have some degree of cracking and ours are no exception. Volta kits have almost no cracks but the Portuguese ovens will typically have a few cracks on the inside and possibly a couple on the outside. They can be easily repaired and they do not affect the performance of the oven. Our Classic Portuguese brick oven already comes with a container of patching material.
How long does an oven take to heat up?
To get to pizza baking temperature a Portuguese brick oven will take 1-1.5 hours, Volta kits 45-60 min, and Nonno Peppe & Pizzaiolo about 30 min.
Do your ovens need to be cured before first use?
Yes, curing minimizes cracking. It consists of firing the oven slowly with small fires over the course of a few days. This relates to brick and precast ovens only; steel ovens do not need to be cured.
Are your ovens NSF or UL listed?
No. Since we sell mainly for outdoor residential use our ovens do not need to be certified..
Can you install the oven too?
We do not install but most of our ovens do not need anything beyond a base to be placed on.